Let us nourish your knowledge of plant science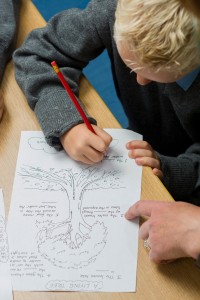 Planting Ideas will take you on a journey through time where you will learn how plants evolved and once ruled the Earth.
Our lessons are designed to distil complex concepts thus making plant science accessible to all age groups within a fun environment. We have a suite of customised lessons designed to support the National Primary School Curriculum with each focussing on a specific aspect of plant science; from how the leaf is the food factory for the plant through its amazing ability to photosynthesize to how the seed is effectively the packed lunch for the next generation.  Each year as we move through the seasons we will add new lessons to enrich our course content.
A Planting Ideas horticulturalist can visit your school and deliver a customised package of lessons from 1st through to 6th classes. Our bespoke, compact mobile science unit (which fits into our car boot!) allows for flexible delivery of our lessons within a busy school environment thus minimising disruption, making Planting Ideas unique amongst school service providers.